We have had a few customers ask about setting up and using 1 to 4 PID loops on the groov RIO outside of PAC Control. Optos plan is to ultimately make some PID configuration pages in groov Manage, but there is no solid ETA for this firmware update yet, so here is an example Node-RED flow to help get the creative juices started in the meantime.
Note, this is not a polished finished 'product'. Its just one way you can go about configuring the PID loops.
You will need to customize it for your application (change the input graph scale and setpoint slider range if nothing else) and tweak it to work the way you expect (For example, when the RIO boots up).
I want to give a big shout out to @gerhardK who did the heavy lifting on this one.
The PID loops on RIO can be accessed via the MMP address using the groov-io nodes.
This is what this flow does, it writes the appropriate values to the PID MMP addresses.
Here is what the flow you are going to import looks like.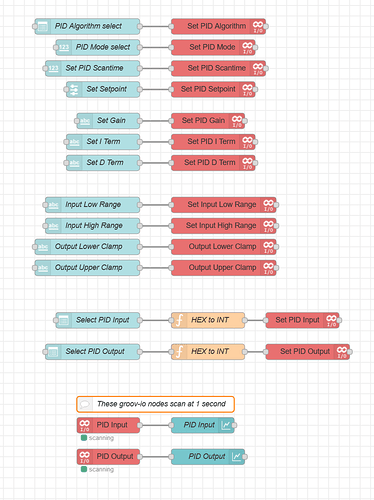 As you can probably see, you will need to install the dashboard nodes.

Note, you don't have to do this, you can hard code all the values in to suit your PID configuration using the inject node if you like. Just swap out all the blue dashboard nodes for inject nodes.
Here is the dashboard we put together.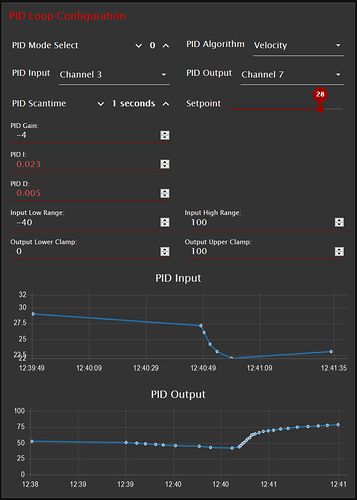 As you can see, it just builds a nice point and click configuration screen for ONE PID only. Loop zero.
If you want more PID loops, you will need to copy the flow and change all the MMP addresses for each PID loop. (Or get very fancy with the function node and JavaScript).
Since we are using the auto scanning groov-io node, we are limited to a quickest PID scan time of 1 second. You can go slower, but that's the quickest that node will scan the input and outputs.
Ok, so with all that, here is the flow.
It will create a new flow tab for you, so don't import it twice without first looking for a tab called 'PID'!
[{"id":"f1c805f9.69b958","type":"tab","label":"PID","disabled":false,"info":""},{"id":"c311156a.abe638","type":"groov-io-write","z":"f1c805f9.69b958","device":"86920c38.358db","dataType":"mmp-address","moduleIndex":"","channelIndex":"","mmpAddress":"0xF2100050","mmpType":"int32","mmpLength":"1","mmpEncoding":"ascii","value":"","valueType":"msg.payload","name":"Set PID Algorithm","x":670,"y":140,"wires":[[]]},{"id":"abbadc5.6ad622","type":"ui_numeric","z":"f1c805f9.69b958","name":"PID Mode select","label":"PID Mode Select","tooltip":"0=Auto 1=Manual","group":"e3b8de85.0b8d18","order":1,"width":6,"height":1,"wrap":false,"passthru":true,"topic":"","format":"{{value}}","min":"0","max":"1","step":1,"x":440,"y":180,"wires":[["9cd168a4.238738"]]},{"id":"9cd168a4.238738","type":"groov-io-write","z":"f1c805f9.69b958","device":"86920c38.358db","dataType":"mmp-address","moduleIndex":"","channelIndex":"","mmpAddress":"0xF2100054","mmpType":"int32","mmpLength":"1","mmpEncoding":"ascii","value":"","valueType":"msg.payload","name":"Set PID Mode","x":660,"y":180,"wires":[[]]},{"id":"74f7b5df.87d12c","type":"ui_dropdown","z":"f1c805f9.69b958","name":"PID Algorithm select","label":"PID Algorithm","tooltip":"","place":"Select PID Algorithm","group":"e3b8de85.0b8d18","order":2,"width":6,"height":1,"passthru":true,"multiple":false,"options":[{"label":"Velocity","value":5,"type":"num"},{"label":"ISA","value":6,"type":"num"},{"label":"Parallel","value":7,"type":"num"},{"label":"Interacting","value":8,"type":"num"}],"payload":"","topic":"","x":420,"y":140,"wires":[["c311156a.abe638"]]},{"id":"6c4345c5.997e24","type":"ui_slider","z":"f1c805f9.69b958","name":"Set Setpoint","label":"Setpoint","tooltip":"Setpoint 20-30°C","group":"e3b8de85.0b8d18","order":6,"width":6,"height":1,"passthru":true,"outs":"end","topic":"","min":"20","max":"30","step":1,"x":450,"y":260,"wires":[["e8f8be2b.ff7878"]]},{"id":"e8f8be2b.ff7878","type":"groov-io-write","z":"f1c805f9.69b958","device":"86920c38.358db","dataType":"mmp-address","moduleIndex":"","channelIndex":"","mmpAddress":"0xF2100004","mmpType":"float","mmpLength":"1","mmpEncoding":"ascii","value":"","valueType":"msg.payload","name":"Set PID Setpoint","x":660,"y":260,"wires":[[]]},{"id":"9d9cbe22.bb094","type":"ui_numeric","z":"f1c805f9.69b958","name":"Set PID Scantime","label":"PID Scantime","tooltip":"1-30 seconds","group":"e3b8de85.0b8d18","order":5,"width":6,"height":1,"wrap":false,"passthru":true,"topic":"","format":"{{value}} seconds","min":"1","max":"30","step":1,"x":430,"y":220,"wires":[["a89e611e.4e23b8"]]},{"id":"a89e611e.4e23b8","type":"groov-io-write","z":"f1c805f9.69b958","device":"86920c38.358db","dataType":"mmp-address","moduleIndex":"","channelIndex":"","mmpAddress":"0xF2100038","mmpType":"float","mmpLength":"1","mmpEncoding":"ascii","value":"","valueType":"msg.payload","name":"Set PID Scantime","x":670,"y":220,"wires":[[]]},{"id":"fd17a0fd.b0013","type":"ui_text_input","z":"f1c805f9.69b958","name":"Set Gain","label":"PID Gain:","tooltip":"","group":"e3b8de85.0b8d18","order":7,"width":6,"height":1,"passthru":true,"mode":"number","delay":"0","topic":"","x":460,"y":320,"wires":[["e14f45ac.1c3e9"]]},{"id":"e14f45ac.1c3e9","type":"groov-io-write","z":"f1c805f9.69b958","device":"86920c38.358db","dataType":"mmp-address","moduleIndex":"","channelIndex":"","mmpAddress":"0xF2100010","mmpType":"float","mmpLength":"1","mmpEncoding":"ascii","value":"","valueType":"msg.payload","name":"Set PID Gain","x":650,"y":320,"wires":[[]]},{"id":"68ea2798.05088","type":"ui_text_input","z":"f1c805f9.69b958","name":"Set I Term","label":"PID I:","tooltip":"","group":"e3b8de85.0b8d18","order":9,"width":6,"height":1,"passthru":true,"mode":"number","delay":"0","topic":"","x":450,"y":360,"wires":[["64626fc2.7d3418"]]},{"id":"64626fc2.7d3418","type":"groov-io-write","z":"f1c805f9.69b958","device":"86920c38.358db","dataType":"mmp-address","moduleIndex":"","channelIndex":"","mmpAddress":"0xF2100014","mmpType":"float","mmpLength":"1","mmpEncoding":"ascii","value":"","valueType":"msg.payload","name":"Set PID I Term","x":660,"y":360,"wires":[[]]},{"id":"e64db7cf.9403b8","type":"ui_text_input","z":"f1c805f9.69b958","name":"Set D Term","label":"PID D:","tooltip":"","group":"e3b8de85.0b8d18","order":11,"width":6,"height":1,"passthru":true,"mode":"number","delay":"0","topic":"","x":450,"y":400,"wires":[["8f3e619a.4980e"]]},{"id":"8f3e619a.4980e","type":"groov-io-write","z":"f1c805f9.69b958","device":"86920c38.358db","dataType":"mmp-address","moduleIndex":"","channelIndex":"","mmpAddress":"0xF2100018","mmpType":"float","mmpLength":"1","mmpEncoding":"ascii","value":"","valueType":"msg.payload","name":"Set PID D Term","x":660,"y":400,"wires":[[]]},{"id":"9fbb9069.9a45b8","type":"ui_chart","z":"f1c805f9.69b958","name":"PID Input","group":"e3b8de85.0b8d18","order":17,"width":12,"height":4,"label":"PID Input","chartType":"line","legend":"false","xformat":"HH:mm:ss","interpolate":"linear","nodata":"","dot":true,"ymin":"22","ymax":"32","removeOlder":"5","removeOlderPoints":"","removeOlderUnit":"60","cutout":0,"useOneColor":false,"useUTC":false,"colors":["#1f77b4","#aec7e8","#ff7f0e","#2ca02c","#98df8a","#d62728","#ff9896","#9467bd","#c5b0d5"],"useOldStyle":false,"outputs":1,"x":640,"y":900,"wires":[[]]},{"id":"4739e34.2e7041c","type":"groov-io-input","z":"f1c805f9.69b958","device":"86920c38.358db","dataType":"channel-analog","moduleIndex":"0","channelIndex":"3","mmpAddress":"0xF0D81000","mmpType":"int32","mmpLength":"1","mmpEncoding":"ascii","sendInitialValue":true,"deadband":"1","scanTimeSec":"1.0","name":"PID Input","x":460,"y":900,"wires":[["9fbb9069.9a45b8"]]},{"id":"382aa1dc.9b388e","type":"ui_chart","z":"f1c805f9.69b958","name":"PID Output","group":"e3b8de85.0b8d18","order":18,"width":12,"height":4,"label":"PID Output","chartType":"line","legend":"false","xformat":"HH:mm","interpolate":"linear","nodata":"Waiting for data","dot":true,"ymin":"0","ymax":"100","removeOlder":"5","removeOlderPoints":"","removeOlderUnit":"60","cutout":0,"useOneColor":false,"useUTC":false,"colors":["#1f77b4","#aec7e8","#ff7f0e","#2ca02c","#98df8a","#d62728","#ff9896","#9467bd","#c5b0d5"],"useOldStyle":false,"outputs":1,"x":650,"y":960,"wires":[[]]},{"id":"cb365878.577f38","type":"groov-io-input","z":"f1c805f9.69b958","device":"86920c38.358db","dataType":"channel-analog","moduleIndex":"0","channelIndex":"7","mmpAddress":"0xF0D81000","mmpType":"int32","mmpLength":"1","mmpEncoding":"ascii","sendInitialValue":true,"deadband":"1","scanTimeSec":"1.0","name":"PID Output","x":460,"y":960,"wires":[["382aa1dc.9b388e"]]},{"id":"a165130a.063a78","type":"groov-io-write","z":"f1c805f9.69b958","device":"86920c38.358db","dataType":"mmp-address","moduleIndex":"","channelIndex":"","mmpAddress":"0xF2100044","mmpType":"uint32","mmpLength":"1","mmpEncoding":"ascii","value":"","valueType":"msg.payload","name":"Set PID Input","x":830,"y":700,"wires":[[]]},{"id":"1a6e24c0.a860f3","type":"ui_dropdown","z":"f1c805f9.69b958","name":"Select PID Input","label":"PID Input ","tooltip":"Select Input Channel for PID","place":"Select PID Input Channel","group":"e3b8de85.0b8d18","order":3,"width":6,"height":1,"passthru":true,"multiple":false,"options":[{"label":"Channel 0","value":"F0260000","type":"str"},{"label":"Channel 1","value":"F0260040","type":"str"},{"label":"Channel 2","value":"F0260080","type":"str"},{"label":"Channel 3","value":"F02600C0","type":"str"},{"label":"Channel 4","value":"F0260100","type":"str"},{"label":"Channel 5","value":"F0260140","type":"str"},{"label":"Channel 6","value":"F0260180","type":"str"},{"label":"Channel 7","value":"F02601C0","type":"str"}],"payload":"","topic":"","x":440,"y":700,"wires":[["fffe58e5.1f9488"]]},{"id":"fffe58e5.1f9488","type":"function","z":"f1c805f9.69b958","name":"HEX to INT","func":"msg.payload = parseInt(\"0x\"+msg.payload);\nreturn msg;","outputs":1,"noerr":0,"x":650,"y":700,"wires":[["a165130a.063a78"]]},{"id":"873dfdf1.9c8fa","type":"groov-io-write","z":"f1c805f9.69b958","device":"86920c38.358db","dataType":"mmp-address","moduleIndex":"","channelIndex":"","mmpAddress":"0xF210004C","mmpType":"uint32","mmpLength":"1","mmpEncoding":"ascii","value":"","valueType":"msg.payload","name":"Set PID Output","x":840,"y":760,"wires":[[]]},{"id":"1786a91d.8ce15f","type":"ui_dropdown","z":"f1c805f9.69b958","name":"Select PID Output","label":"PID Output","tooltip":"Select Output Channel for PID","place":"Select PID Output Channel","group":"e3b8de85.0b8d18","order":4,"width":6,"height":1,"passthru":true,"multiple":false,"options":[{"label":"Channel 4","value":"F02A0100","type":"str"},{"label":"Channel 5","value":"F02A0140","type":"str"},{"label":"Channel 6","value":"F02A0180","type":"str"},{"label":"Channel 7","value":"F02A01C0","type":"str"}],"payload":"","topic":"","x":430,"y":760,"wires":[["87d4d3f8.94fd1"]]},{"id":"87d4d3f8.94fd1","type":"function","z":"f1c805f9.69b958","name":"HEX to INT","func":"msg.payload = parseInt(\"0x\"+msg.payload);\nreturn msg;","outputs":1,"noerr":0,"x":650,"y":760,"wires":[["873dfdf1.9c8fa"]]},{"id":"de373a68.23d3d8","type":"ui_text_input","z":"f1c805f9.69b958","name":"Input Low Range","label":"Input Low Range:","tooltip":"","group":"e3b8de85.0b8d18","order":13,"width":6,"height":1,"passthru":true,"mode":"number","delay":"0","topic":"","x":430,"y":480,"wires":[["78d6b0.c83f795"]]},{"id":"78d6b0.c83f795","type":"groov-io-write","z":"f1c805f9.69b958","device":"86920c38.358db","dataType":"mmp-address","moduleIndex":"","channelIndex":"","mmpAddress":"0xF2100028","mmpType":"float","mmpLength":"1","mmpEncoding":"ascii","value":"","valueType":"msg.payload","name":"Set Input Low Range","x":680,"y":480,"wires":[[]]},{"id":"25edc313.a93c7c","type":"ui_text_input","z":"f1c805f9.69b958","name":"Input High Range","label":"Input High Range:","tooltip":"","group":"e3b8de85.0b8d18","order":14,"width":6,"height":1,"passthru":true,"mode":"number","delay":"0","topic":"","x":430,"y":520,"wires":[["13e0a40b.706fdc"]]},{"id":"13e0a40b.706fdc","type":"groov-io-write","z":"f1c805f9.69b958","device":"86920c38.358db","dataType":"mmp-address","moduleIndex":"","channelIndex":"","mmpAddress":"0xF210002C","mmpType":"float","mmpLength":"1","mmpEncoding":"ascii","value":"","valueType":"msg.payload","name":"Set Input High Range","x":680,"y":520,"wires":[[]]},{"id":"1a759cf6.0e1633","type":"ui_text_input","z":"f1c805f9.69b958","name":"Output Lower Clamp","label":"Output Lower Clamp:","tooltip":"","group":"e3b8de85.0b8d18","order":15,"width":6,"height":1,"passthru":true,"mode":"number","delay":"0","topic":"","x":420,"y":560,"wires":[["df89897e.749938"]]},{"id":"df89897e.749938","type":"groov-io-write","z":"f1c805f9.69b958","device":"86920c38.358db","dataType":"mmp-address","moduleIndex":"","channelIndex":"","mmpAddress":"0xF2100030","mmpType":"float","mmpLength":"1","mmpEncoding":"ascii","value":"","valueType":"msg.payload","name":"Output Lower Clamp","x":680,"y":560,"wires":[[]]},{"id":"f15c8fe1.92f51","type":"ui_text_input","z":"f1c805f9.69b958","name":"Output Upper Clamp","label":"Output Upper Clamp:","tooltip":"","group":"e3b8de85.0b8d18","order":16,"width":6,"height":1,"passthru":true,"mode":"number","delay":"0","topic":"","x":420,"y":600,"wires":[["b087cd8d.06a8d"]]},{"id":"b087cd8d.06a8d","type":"groov-io-write","z":"f1c805f9.69b958","device":"86920c38.358db","dataType":"mmp-address","moduleIndex":"","channelIndex":"","mmpAddress":"0xF2100034","mmpType":"float","mmpLength":"1","mmpEncoding":"ascii","value":"","valueType":"msg.payload","name":"Output Upper Clamp","x":680,"y":600,"wires":[[]]},{"id":"ef9ed9bf.655688","type":"comment","z":"f1c805f9.69b958","name":"These groov-io nodes scan at 1 second","info":"","x":550,"y":860,"wires":[]},{"id":"86920c38.358db","type":"groov-io-device","z":"","address":"localhost","msgQueueFullBehavior":"DROP_OLD"},{"id":"e3b8de85.0b8d18","type":"ui_group","z":"","name":"PID Loop Configuration","tab":"2e0ee617.a21a12","order":1,"disp":true,"width":"12","collapse":false},{"id":"2e0ee617.a21a12","type":"ui_tab","z":"","name":"PID Loop","icon":"dashboard","disabled":false,"hidden":false}]