(using the latest EPIC Firmware 1.5.0 and groov View 4.2a)
I am using NTP Timestamps in my PAC Control strategy so that I can easily perform time computations. However, for the HMI (groov View) that everyday people see, I need to display it in human readable form, e.g. 12-29-2019 22:59.
I am using the function NtpTimestampToDateTime which places the date & time in an integer 32 table. Below is what the table looks like in PAC Control: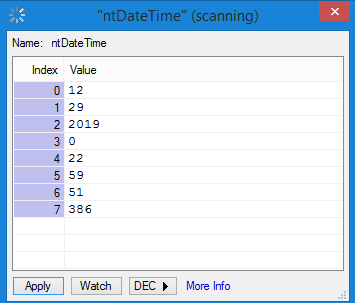 All good there, but is there an easy way to get that date & time to appear in groov View? I have duplicated the Value gadget 5 times (Month, Day, Year, HourOfDay, Minute) and lined them up, but I am wondering if there is a better way to do this?