Posting this on behalf of a customer that came through our training program a few months ago…
He's got two controllers talking to the one rack of I/O.
All SNAP hardware (two PAC S1 controllers and an EB).
He's set it up as a bit of a home-grown redundant system, he can manually or automatically switch between controllers. (I'm simplifying things here, but it's enough to give a feel for the source of the question).
So, in each controller the rack of I/O is configured, but to make things interesting, only one of the controllers has the entire rack configured, in the other, only the points it needs are configured.
In both of the controllers he has the I/O rack configured the same;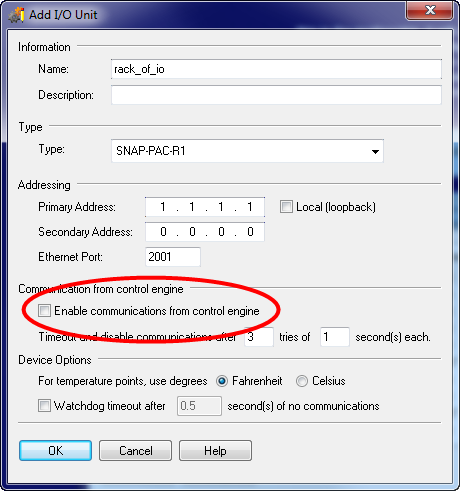 The reason for this is that we don't want the controllers to be sending their configuration to the I/O rack.
In the power up chart, we also use the command 'Set I/O Unit Configured Flag'.
Same reasoning here, we don't want the controllers sending their config to the rack.
We then issue the command 'Enable Communication to All I/O Units'.
So, the controller, either one, powers up, runs the power up chart, which says, 'don't bother the I/O unit, it's all good, just start talking to the unit as you need'.
The points, because they have not been reconfigured don't change state, as far as the I/O unit is concerned, nothing has happened.
Here is our question then;
Should he be saving his configuration to flash every so often on the I/O unit?
This way the I/O rack has its full configuration every time it boots up… I mean its not going to get it from the controller, we have gone to great pains to ensure that it doesn't, but it needs to know what modules are in what positions, what scaling etc it has…
Anyone done this sort of thing?
Got any thoughts you could share?
Thanks,
Ben.