Firsly can someone confirm that it is possible to run Ignition EDGE and especially its MQTT functionality in trial mode on a groovBox with registered SOLO or PLUS licenses. As an OPTO22 Distributor we want to be able to loan groovBoxes for customers to "try before you buy" in their installations in 2 hour trial mode. My understanding is that this should be possible without having to have a registered ENTERPRISE license installed.
For anyone using Ignition EDGE in trial mode after two hour limit, you will be prompted on the configuration webpage to restart Ignition EDGE for another two hours functionality, which is quite reasonable. However what is not so obvious is that for Groov View/Build this will not be sufficient. Tags associates with Ignition EDGE's OPC Server will show the following tag error, which is not the most informative message. In other occasions you may receive a message telling you that groov is in trial mode, which it isn't.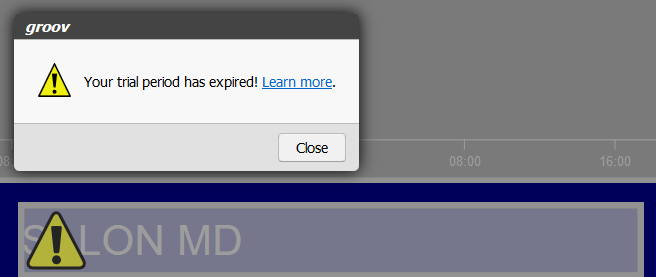 The obvious action is to restart the Ignition Edge module for another two hours, but that does not resolve the problem. The not so obvious but correct solution is to complete reboot the groovBox, which you can do from the groov admin left menu bar, System > Restart groov.
Another problem associated with unlicensed Ignition EDGE version that does not occur with the licensed EDGE running on a groov enterprise licence. That is the online documentation is simply not available!
I am running groov admin 1.570.48.45236, but when you press Online Documention from the Ignition EDGE front webpage, the following appears. (Note 192.168.1.71 is the groovBox running Ignition Edge and it appears the files are either not accesible or installed.
If you try to get help formn the Ignition EDGE options, e.g. MQTT Documentation
This is the result
In this case it seems to be trying to access an external web location chariot.io, which is not being allowed as it is requesting a secure connnection with user credentials.
There is a possibility that this is something messed up on the admin 1.570.48, but I suspect its more to do running an unlicensed version of Ignition EDGE on a 2 hour trial. Without online documention, its pretty much impossible for a new user to set up Ignition on the groovBox. I.e. We need the documentation back!