Greeting,
I created a flow that read SMS from Maestro. Depends on the output from Maestro, Epic will reply the SMS back.
But the switch node cannot recognize the output from the previous node.




If I inside the string myself in epic, reply SMS work fine.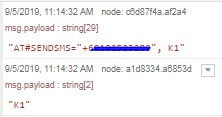 Why would that happen? Is because of the return button at the end of the string 3rd image(K3)?