This may have been a fluke or a coincidence or something else, but here is what happened this morning…
We have been running our Groov EPIC fine for about 10 days, 24 hrs/day. I saw a new firmware was available, but since it was not a good time to stop the program, I decided to wait.
Meanwhile, we ordered and received a second identical Groov EPIC. I unboxed it this morning, hooked it up, set up an admin account (used the same user name and password as the original unit), uploaded the license, then went and grabbed the latest .bin firmware file and then proceeded to update the firmware.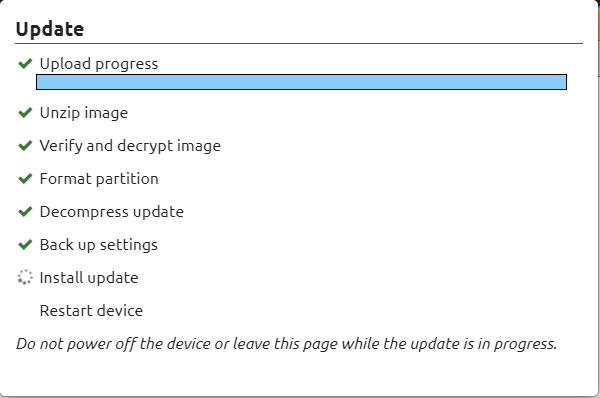 I know it got past the first few green checkboxes on this screen, but sometime after that, the other EPIC unit that has been running for 10 days suddenly rebooted and then when it came back on, it was as if it was a brand new unit, asking to follow the set up procedure. So I have proceeded to set up that unit with admin name & pwd, license, firmware, etc.
Did my update of the firmware on the second (new) EPIC somehow affect the one that was running? I did pay close attention to the IP addresses and am sure I was updating the new unit. The only thing I can think I did wrong was creating the admin account name & pwd to be identical on both units.