I'm using Groov Epic. My strategy initially had the Startup, which polls for a StartRequest for each Node, starts the applicable Node n chart, which runs the process approx 2 hours, and then each chart exits.
I was starting to duplicate/rename these and join them up, but it seems like subroutines, would be more effective (and read manual section and watched the making subroutine (averaging inputs) video). I have converted the working Node1 chart to a subroutine, taking:
2x analog Ins(Temp, Pressure), 1x digital Out (Relay), and some variables to control start/abort and show temperature targets.
I've implemented these within the Startup chart using:
Start
ActionBlock: subroutine with Node1 params
Delay
ActionBlock: subroutine with Node2 params.
Delay
… etc and will do so for Nodes 3 through 24 once I get it working.
Trying to use the debugger breakpoint and step into:
Startup → Node1 subroutine > Check for Start var, Delay, Check for StartRequest var, then seems to goto Startup (Delay1) > Node2 subroutine > check for StartRequest var etc, and then onto 3.
It looks like it does this just once for each subroutine, and that the processing seems to completely finish, i.e. the subroutines don't continue running.
Can I use subroutines in this way ?
What do I need to do for this use case ?
The goal is that all subroutines initialize and are checking for the StartReq variable (and when received start the process control loop).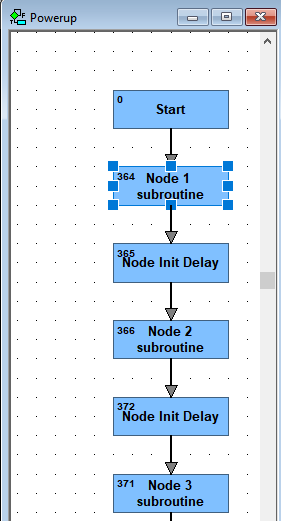 I read a little about multitasking: the processor yields at a delay to let other code operate, but once yielded, where does the processor resume within the first subroutine ?
Or is the sub just called again and again, and would I then need to create a flow chart loop on Startup from last Node back to first Node actionblock ?