Hi Every one,
that is my 2nd week with OPTO 22 stuff (PAC Control and Display) and SNAP PAC units:) and really I'm fascinated so I'm going to complete learning it till professionalism.
I created this topic to post my questions related to PAC Display -in general it's very easy to learn- and most of question will be about graphics and drawings !
I have some now:
My main : How anyone can draw this graphics in the following image as I tried a lot but there is no animation or even 3D symbols in the recent Symbols !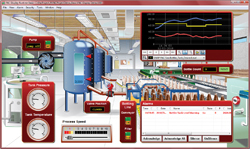 and Customers ask to make Monitors Like OPTO22's one !
This Image contain a lot of new Sliders and Gauges Also 3D Tanks with moving Bottles. also the animated fan !
How all of that can be done ?!