I am trying to debug a strategy that has a chart that accepts communications from client sockets. I start the strategy in Debug mode, and if no client is connected PAC Control displays a warning dialog:
Timeout. No response from device. Check hardware connection, address, power, and jumpers.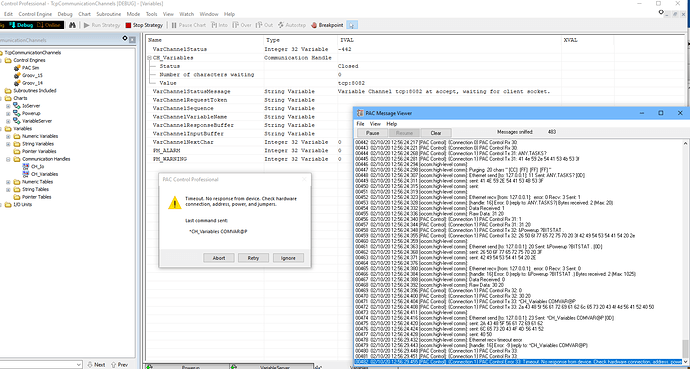 I click "Ignore" and the problem goes away. But it comes back in a few seconds.
The chart is in a loop calling AcceptIncomingCommunication() and waiting for a status other than -442 (which is what is returned before a client connects).
I have two questions:
This is displayed with a yellow triangle exclamation which I presume is a warning. Does this halt or pause the chart, or do things keep running?

Is there a way to selectively suppress warnings like this? Other applications I have worked with have a "don't show this warning again" option, or a way to set warning levels so that expected warnings are not displayed. (I would be happy if this warning only appeared in the message viewer).