[B]UPDATE: This "trick" is no longer relevant in groov versions R2.2a or newer – see notes on the Stash area in follow-up posts[/B]
Hi All,
While putting together a groov Page for a Learning Center demo, I found that I needed a slightly different set of gadgets for my [B]Handheld[/B] layout vs. the bigger [B]Desktop & Tablet[/B].
Specifically, on the [B]Desktop [/B]layout, I had enough room to label parts of my video image like this (with [B]FOUR[/B] overlapping Text Area gadgets, each with its own centered text):


Yet on the [B]Handheld [/B]layout, there just wasn't enough room for four, so I used [B]ONE[/B], like this:


So what happens to the extras you don't need? The [B]ONE [/B]shown here (which I used on the handheld but didn't need for the [B]Desktop [/B]layout) can be hidden behind a larger gadget.
Just right-click then choose "Send To Back":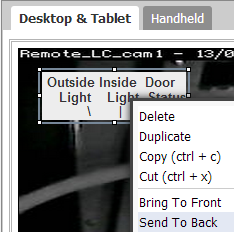 Ditto for those the four too-big gadgets in the [B]Handheld [/B]version. Don't have a gadget big enough to hide all that? I've used a Text Area with just one space in it to cover unneeded gadgets.
Here's how it looked for the Desktop (with the smaller single label hidden, and the 4 larger labels showing):

Here's how it looked for the Handheld (4 large labels hidden, one small one showing):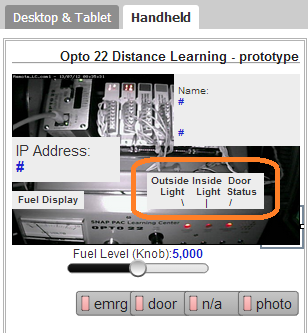 Speaking of spaces in text gadgets… check out this post explaining how I got those spaces in the one smaller Text Area gadget.
Happy [I]groov[/I]in'
-OptoMary