Customize your PAC Manager menu options for easier data entry!
Those of you who happened to read the new "Wireless Ad-Hoc Mode Configuration Tech Note" (form 1970), might have noticed a trick we did with PAC Manager: we added our own custom menu option, with one little text file!
What is this CIW file for? and How does this work?
Besides making it easier to change a certain group of memory-mapped values–like those needed to configure ad-hoc mode on your Opto 22 wireless device–you can also use a file like this to group together any mem-mapped values on one specific device or several different devices.
   For example, suppose I just got my iPAC app to view and control Opto 22 tag values from my iPhone. I may want to give all my Ethernet brains and controllers a name, username, and password. If I'm really extra-careful about security, I might want to change those values frequently. This is much easier to do if they're all in one place: under a PAC Manager menu option you've created just for this purpose.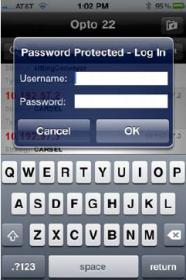 You just need one little text file that looks like this:
(Feel free to borrow the ad-hoc example file and modify it to suit your needs)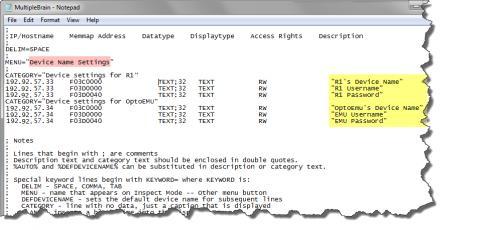 In this example, I've replaced the word AUTO (that you'll see in the ad-hoc example) with a couple different IP address of devices I use a lot. (The AUTO keyword tells PAC Manager to just use the device you've selected at the top of the Inspect Opto 22 Device window.)
In my text file–which must have a .CIW extension for PAC Manager to read it in, I've included the mem map addresses, formatting and access information, as well as a description of each piece of data to be (in this case) read and written from our new PAC Manager window, shown below.
My new menu options shows in PAC Manager in Tools > Inspect > Other. OptoMagically, I can enter new values for this set of mem map locations–on more than on device–all in one convenient window!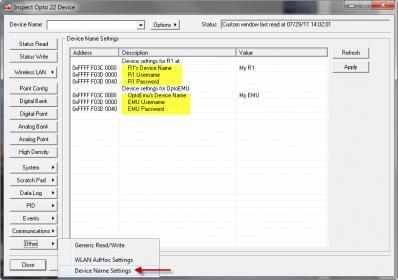 Notice how my new menu option corresponds with that pink menu string above, and the descriptions highlighted in yellow are the prompts that show on my new custom window. Now it's easy for me to change those few values quickly, all in the same location. Neat-o!
When you build your file, give it a .CIW extension so PAC Manager can read it in. Put this file in the same folder as your Manager.exe file. That folder may be something like this, especially if you selected the defaults, like I did, during the PAC Project install:
C:\Program Files (x86)\Opto22\PAC Project 9.0
Write on,
OptoMary