Hello,
I am currently working on a project which involves the control and data acquisition of a FLIR a325sc camera using OPTO SNAP PAC, both of which we already have installed in our laboratory. We are sighting a tube which is typically around 1800 F, so the camera will use a series of actuators to slide up to the IR window, take the picture, and retract back to a safe temperature.
The camera sends the thermal image to the FLIR ResearchIR Max program which can interpret the image, where every pixel of the image is a different temperature value. I have attached an image to show what the FLIR program outputs.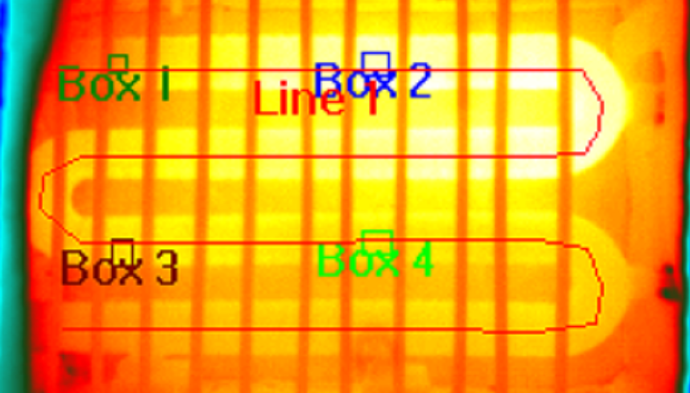 From the program, I am able to draw lines, make boxes, and make points which will export as a CSV file into a folder of my choice. If I open the CSV file from an exported line in Excel, it plots out the line as if cells in Excel represented a pixel on the 240x360 pixel map (resolution of the camera). Because of this, the data shows up as a sideways "W" shape just like the tube and the line drawn. To sort the data and make it useful, I wrote a python script to sort it into an array of (nx1) dimensions where n is the number of pixels in the drawn line.
So the main question then is: Is it possible to use OPTO to tell the camera when to take a picture, have OPTO notice a CSV file appears in the chosen folder, and use the CSV file data to make graphs and do calculations?
Thank you,
Cameron B.