I am currently using 3 different communication handles to connect to the same FTP server at different points in my strategy. However, suddenly I started getting error -9 on one communication handle "Timeout, No response from device. Check hardware connection, address, power, and jumpers." and on the other started receiving this when I am on Debug on PAC Control and try to open a connection: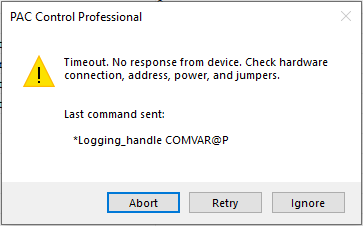 My questions are:
If all communication handles are closed, is it possible that one of them is keeping the connection open without reporting status?
Is it good practice to have different communication handles connect to the same FTP Server at different points (No two try to connect at the same time)?
Any way to interpret the message "Last command sent: *Logging_handle COMVAR@P" ?
The CPU usage jumps to 87% from 58% when it is trying to connect to the FTP server, would that something could hinder proper operation of the controller ?