I'm using ODL for the first time. I set up a test table in my MS SQL server with three columns as the docs say is necessary. I set up the link, tested the connection, and it all works.
I then set up a text box in Groov tied to an integer32 variable called nSendData so I can put the value 1 or 0 to trigger the event. I change the value to 1 and it triggers the INSERT command.
Here is what it looks like: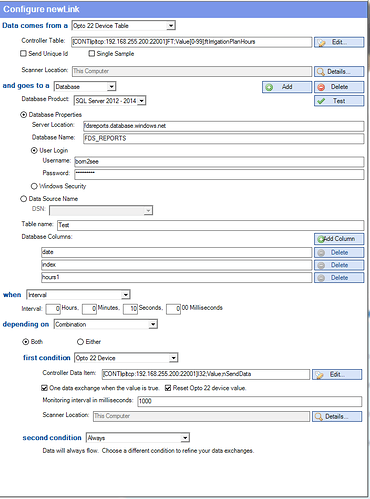 Doesn't work. I get this error:


Here is the structure of my table in the SQL Server


EDIT: So I fixed it. Here's what was wrong:
The Date/TimeStamp field has to be either a text or datetime data type. I had it as date.
I labeled the index field "index" which must be a reserved field although SQL server didn't bark at me. Changed it to "somekey" and presto! it worked.
The lesson to be learned here: RTDM (read the darn manual).
Thanks,
Dave