Hello,
I have a question about an approach to change one analog output using a chart. I use this formula to send a signal to a flow controller with an output 0-100% of the signal.
AO_MFC_Nitrogen_SP = ((SP_Nitrogen_Flowrate + MFC_Nitrogen_Adjust_Increment)/MFC_Nitrogen_Range) *100;
At the same time I have another location where I can use a slider gadget to change AO_MFC_Nitrogen_SP manually for calibration purposes.
if I use the slider to send a 14% of the signal range to the controller, the flow controller reacts appropriately and responds.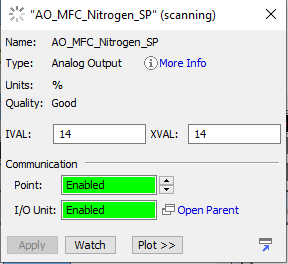 Response from the flow controller:


However, if I start the chart that have the formula above the channel registers the same value of 14% but there is no response received from the flow controller.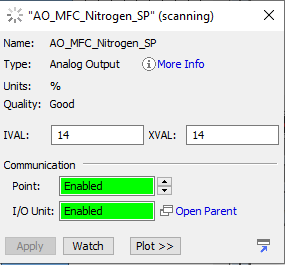 response from the flow controller


I am wondering, is there a conflict between the slider gadget and the formula that is written in the strategy? Does the gadget take precedent in updating the signal?