Let's ponder variables, also called tags, and how to choose a good name.
Whether you're starting a new PAC Control strategy or updating an old one, carefully consider how to name your strategy variables, because good names can make your strategy easier to troubleshoot and maintain.
For example, use the first letter or two of the name as a prefix to indicate the variable type.
     Name an integer table [B]nt[/B]ProductTypeTable


     Name an up timer[B] ut[/B]ElapsedTimeInSeconds 


     Name an analog point[B] ai[/B]DuckProductionRate_[B]in_Ducks_per_Second[/B]

Use all caps to name a variable used as a constant: MAX_TIME_TO_WAIT_IN_SECONDS.
Put the units into the variable name, which can be stored in the I/O Unit's memory and is visible during PAC Control debugging, while this configuration-only "Scaled" text [circled below] is not: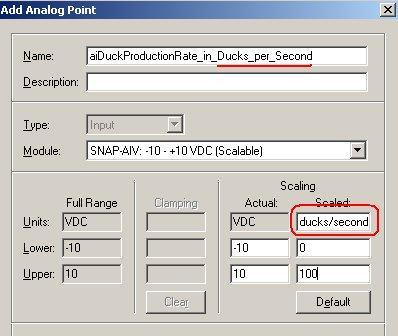 [FYI - if this image doesn't appear, log into My.Opto22 to see all OptoForum images]
Use all 50 characters of your variable names wisely. The PAC Control User's Guide (form 1700) covers naming conventions in more detail. Look in the index under "naming" for more helpful hints, such as a list of Hungarian notation prefixes.
Note: these are just conventions, not rules (except for the 50-character limit). Pick what works for you and your team and stay consistent.
What times of naming conventions to you use?
Write on…
Mary