Got a weird one here. Not important but wondering if it might be a bug…
I wasn't around at the weekend, but noticed this morning that the controller time is at GMT and not BST as it should be (changes this coming weekend!). (UK based)
The code has been running in the controller for several years and the first few lines in the Powerup Chart are:
//Set Clock GMT/BST times
nErrorNumber = SetTimeZoneConfiguration("GMT,10,0,5,0200/BST2,3,0,5,0100"); //Put here so that if time zone changes 'on the fly' we can do something with it
if (nErrorNumber <> 0) then
        AddMessageToQueue(8, "UTC Time Zone not configured");  //if error send to Controller Message Queue
endif

//Sync time on Power Up
nTimeout = 60;
nErrorNumber = SynchronizeClockSNTP(nTimeout, sNTPServerURL);

//Controller powered up time
nMemRead = ReadNumFromIoUnitMemMap(Home_Control, 0xF0300160, nR1PowerTime);

Now, this would be easier to track if I recorded the original time change every time I do an NTP update (0100hrs), but unfortunately I don't!!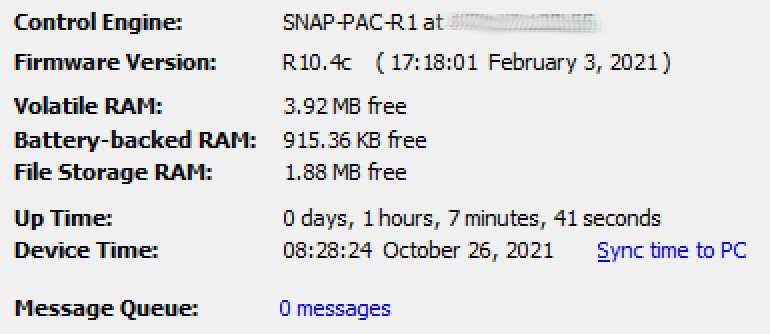 Has anyone any ideas of why/how this could happen?
Anything I can check?
TIA
Colin J