On Our Website
You have probably used our opto22.com search box, here in the top-right corner (or slightly lower here in the forums section).

Below we have compiled other ways to maximize your searching power, on our website and elsewhere. I hope you'll share your searching tips too.
As an example, the other day we had a customer having trouble doing a print in PAC Display. Just searching for print in the search box yields too many results:

From the search page, I can narrow down further using this drop-down box. In this case, I'm looking for any bug reports so I pick "KnowledgeBase."

Have you ever seen something like: "Results 1 - 3 of about 5"? Notice the circled option below to repeat the search with omitted results included. Sometimes more good results are there!

I can also click on OptoKnowledgeBase here under the Support tab:


This page lets me limit the search further. Here I picked Product, and typed in PAC Display.

At this point you can use the browser's Ctrl+F (find) to search this list.
Note: Use caution with the Ctrl+F in Mozilla Firefox as the default is to Match Case. You may want to un-check this box to maximize your results further: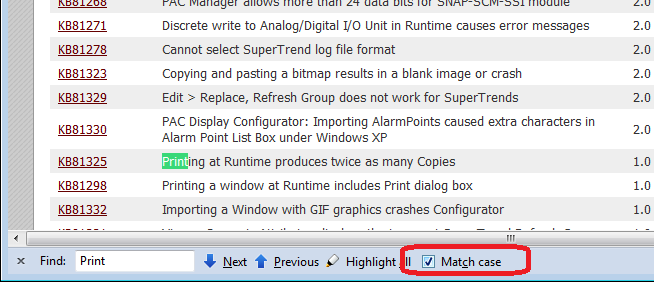 Other Options
Did you know you can use Google to search for a specific term on a specific site?
For example, say I'm looking for information on using an EOM (end-of-message) character. If I used google.com's site-specific search on opto22.com, using this syntax:

[INDENT]<searchterm> site:opto22.com
[/INDENT]

Like so: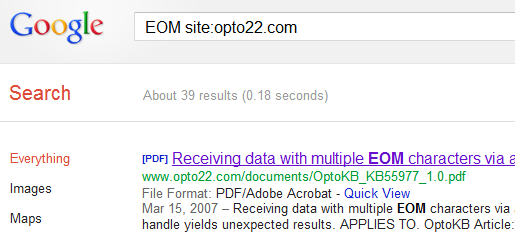 I get many hits, including a few inside of pdfs.
Click here for more from google on "operators and more."
In this example, searching for just EOM gets me too many hits. Maybe I remember writing a post, as mstjohn, about EOMs but can't find it. If I search for:
mstjohn EOM site:opto22.com

Google.com takes me right to it. Yay.
On Your Harddrive
I've also had good luck with using Google Desktop, especially to find emails I'm sure I sent in Outlook. Sadly, like Google Powermeter, this handy app is being discontinued. Bummer.
Maybe I shouldn't admit this but I favor the old-school DOS prompt for speed, especially when searching for a strategy I can't find. Remember the command prompt? Remember DOS?
For example, if I know there's an OptoScript example that's installed with PAC Control (and has moved since 9.0). I know it starts with "OptoScript" but can't remember the rest.
I change directories to my root (circled in red), then search all subdirectories (using the /s) for anything that starts with OptoScript and has a .idb extension, like all PAC Control strategies have. Faster than a windows search, I get:

What's your favorite way to find things?
-OptoMary