Hi OptoFans,
Here's a subroutine that might be helpful to you if you want your strategy to have current weather information, from nearly anywhere on the planet. This could be displayed in PAC Display or used in logic (for example when deciding to turn on sprinklers for the lawn or not).
This weather-grabbing example requires 9.1 or newer PAC Control and firmware (uses new-in-9.1 HTTP commands).
Here's how to use it:
Download the attached .zip file and extract the contents to a known location.
Double-click in your strategy tree on "Subroutines Included" and browse to the GetWeatherData.isb file included in the attached zip.
Find a "Station ID" in the location of interest by visiting Weather Underground here:
http://www.wunderground.com/weatherstation/ListStations.asp
For example, the Station ID for one weather station here in Temecula is "KCATEMEC4" (Roripaugh Hills station).
Your call to the new command/subroutine will look something like this: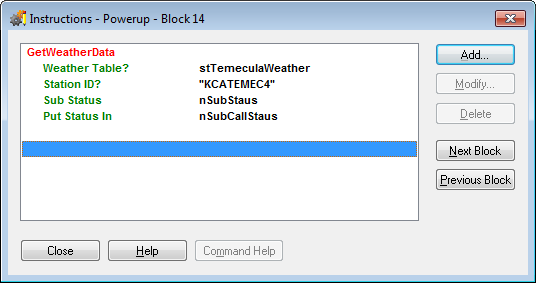 And the data returned in the string table you pass should look something like this: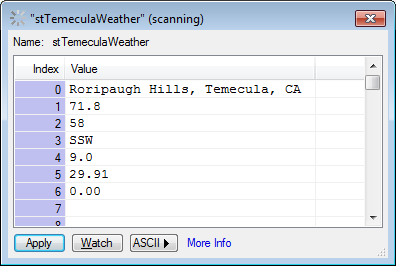 What you're seeing here is:
[0] = location info
[1] = temperature (degrees F)
[2] = relative_humidity
[3] = wind direction
[4] = wind speed (mph)
[5] = pressure in inches
[6] = precipitation today (inches)
Neat-o!
See comments in the subroutine itself for ways you might modify this to better suit your needs.
Code on.
-OptoMary
P.S. (7-31-2012) This newer version (attached v1.2) includes the fix I describe in a later post, and more error reporting.
WeatherExample.v.1.2.zip (5.21 KB)