If you need to access your RIO-EMU power and energy data via ModbusTCP in Ignition or Ignition EDGE, here are the required steps and an attached csv file to import to get up and running very smoothly.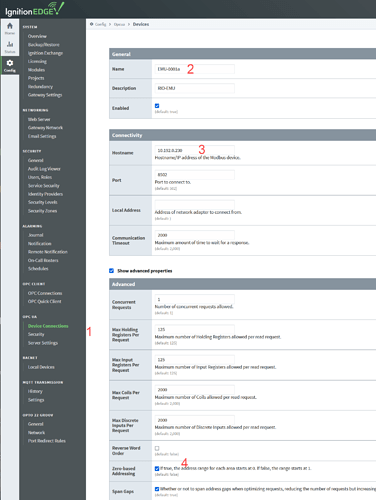 Select the Device Configuration from the Config menu.
When you add a new device, check the following settings.

Be sure and give the ModbusTCP device a name.

You can enter the IP address or host name of the RIO-EMU

In the advanced settings, the only extra thing you need to do it put a check in the Zero Based Addressing.
Once you click save, use the drop down to go to the addressing then import the attached csv (unzip it after you save it from this forum post).
All 64 channels of data will available for you to pick and chose from.
RIO-EMU-Ignition-Modbus.zip (549 Bytes)