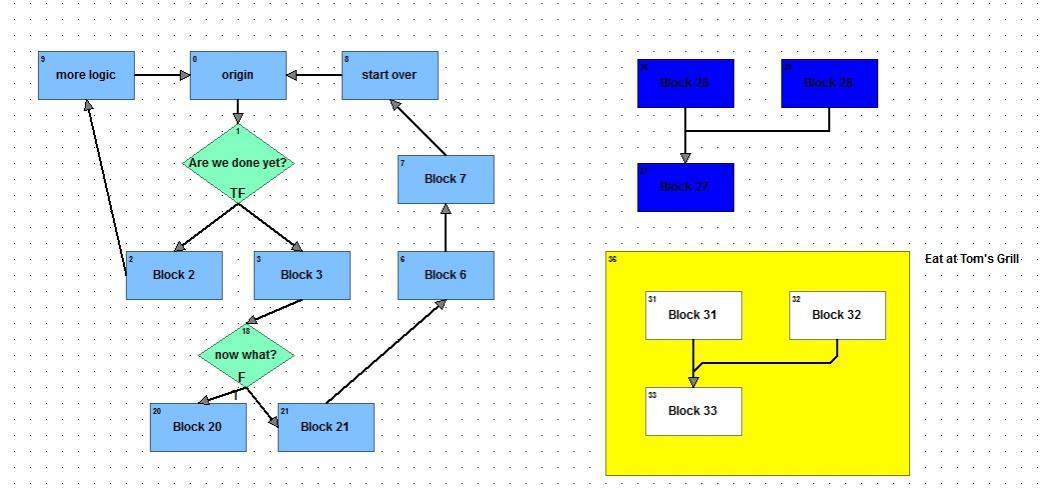 [If you're not seeing the image above, log in to My.Opto22]
Speaking of Flow Charts, I recently had the opportunity to see some flow charts written by someone who'd never done any kind of programming, flowchart-based or otherwise.
The part to the left is an approximation of what I saw. A few things jumped out at might right away (before you read my answer, note to self what you notice right off).
[INDENT]1) It wasn't clear to me where the "Start" block was. I had to look closely (or press shortcut 0 to jump to block 0). Always nice to give your fellow flow-chart users (or yourself in the future) as many clues as possible. I like to call that first block "Start" and have it stick out at the top.
The T/F arrows came out of the same point of the decision blocks. Not real clear which one is which, True or False. Better if one comes out the left, the other right, for example.

The names on the blocks could've been more useful. You can always make the block bigger to fit a nice description of what happening in that block.
[/INDENT] Besides correcting those kinds of things, I thought I'm ask you about other likes/dislikes in making easy-to-follow charts. For example, some people like to overlap their lines (like the dark blocks in the top-right of the image). Other people think that's less clear and prefer to make little angles and so forth as shown in the bottom right.
Another thing folks sometimes do, when using dark-colored blocks like those in the top right, is use a white font for the text on it.
Notice I also put a big block under the three white blocks in that bottom right set. You could do this, along with lots of comments, to highlight parts and help make your chart even easier to understand quickly. My friends in the tech docs department call that a: "visual element rather than a functioning block… could be really helpful to set off part of the flowchart that does a certain task."
Other suggestions/conventions you like to use? Do share!
Thanks,
Mary