A couple of field requests to improve groov events.
[1]. Add color control for the alarm indicator to show at least one of the events is active. A blue color would match the indicator bullets, but pushing the boat out, it would be nice to have a single color configuration for the general indicator bell alarm and configurable colors for each individual events as it appears on the detailed status list. Just saying.
Example1: No configured and enabled event is active:

Example2: At least one configured and enabled alarm is active

[2] Add the ability to allow an operator to switch the ENABLE/DISABLE for specific events from within a page through a widget. At present the only way of blocking a nuisance event with a faulty input sending multiple SMSs and emails is to access groov build from a PC using an editor account, change the attribute to DISABLE, resave the project and reload it on every end device. Messy.
[3] Accessing events on a PC allows you to sort events by Event Name, Active/Inactive and Enabled/Disabled. These options are strangely missing on the movil app. (At least on IOS).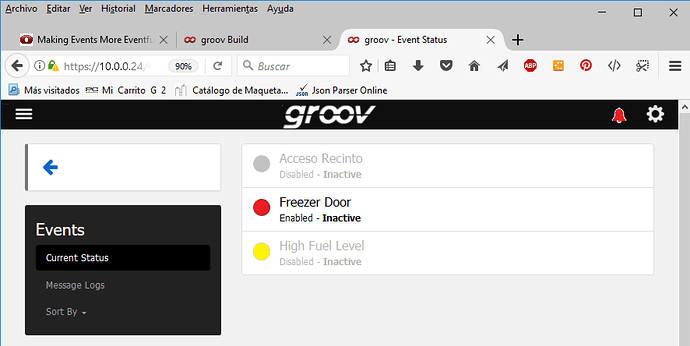 I.e. While any active event makes my alarm bell turn red to notify me, its more important to know that my freezer door is open than knowing my fuel level is high advisory.